Discover the types and care necessary according to the place and conditions where you can locate them.
Gardening in containers
There is a wide variety of containers that can be adjusted to all kinds of styles. For more traditional designs, choose terracotta or wood. In plastic you will find a wide variety of designs and colors, it is also a material that favors drainage. The most important thing is to choose a container that is not treated with chemicals, because it could harm the plant.
Vertical garden
Plant paintings are a way to reinvent the space without having to dedicate large dimensions to it. The plants you use must be well chosen: they must not harm each other, the most appropriate option is to use associations of the same species. Light, humidity and temperature must be regularly controlled to promote good garden maintenance.
Zen garden
The first thing you think of when we refer to the word garden are plants or flowers, but there is a type of garden in which these elements are not involved: the Zen garden. Integrate Japanese influences into your home to encourage meditation and relaxation. You can install the so-called dry garden in a module independent of the rest of the room that fills it with light and good vibrations.
Irrigation and lighting
Two fundamental aspects for care: it is irrigation and light. The most convenient irrigation system is the drip system that works by means of a system of tubes for each plant and a timer that activates the system as scheduled. The windows may not be enough to provide the light that your plants need, in this case, you can complement it with artificial light. The best option is fluorescent light systems because they are economical and give good results.
Which plants to choose
You have a wide variety of plants to grow indoors and you should not be guided by aesthetics, but more by the care they require. Some plants will not bloom indoors or get sick more easily. If you prefer not to spend too much time on their care, choose indoor types such as cacti, arecas or ivy. For those who cannot devote a minute to the care of their interior gardens, there are artificial options.
Location
Choosing a space that favors the growth of plants is essential for the durability of your indoor garden. Look for a spot with access to natural light, near windows or in bright rooms. Avoid cold rooms and near currents, as it can make plants take longer to grow or end up dying. In addition to thinking about the best location for the growth of your plants and give it a use beyond the decorative.
Corner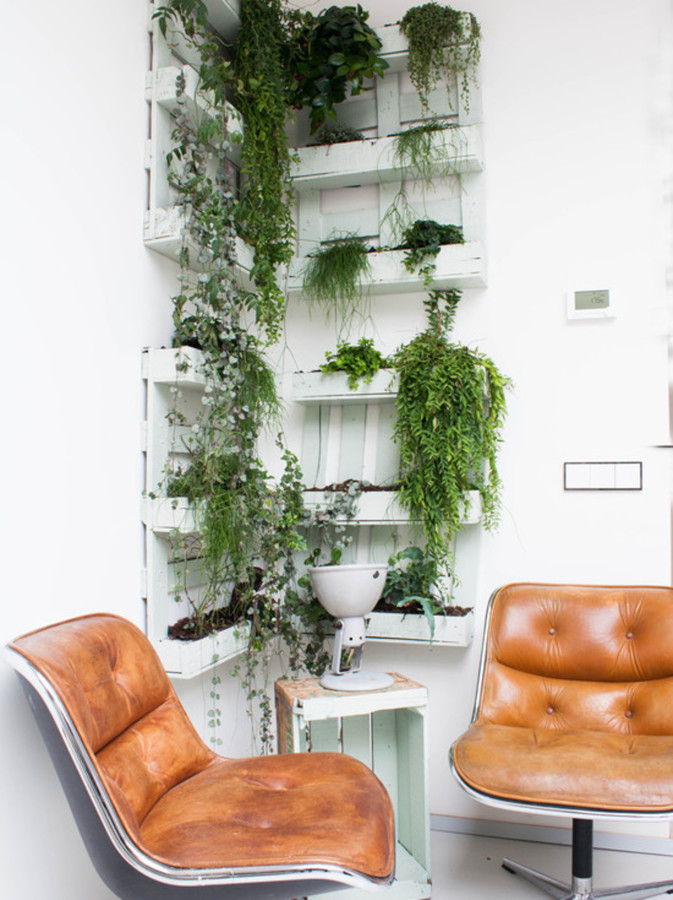 Plants arranged on shelves can be the perfect complement to an intimate and restful corner. Install a vertical system with modules where to place the pots. If the space you choose is small, choose the pots of the same color as the wall to reduce the visual weight.
As a dividing element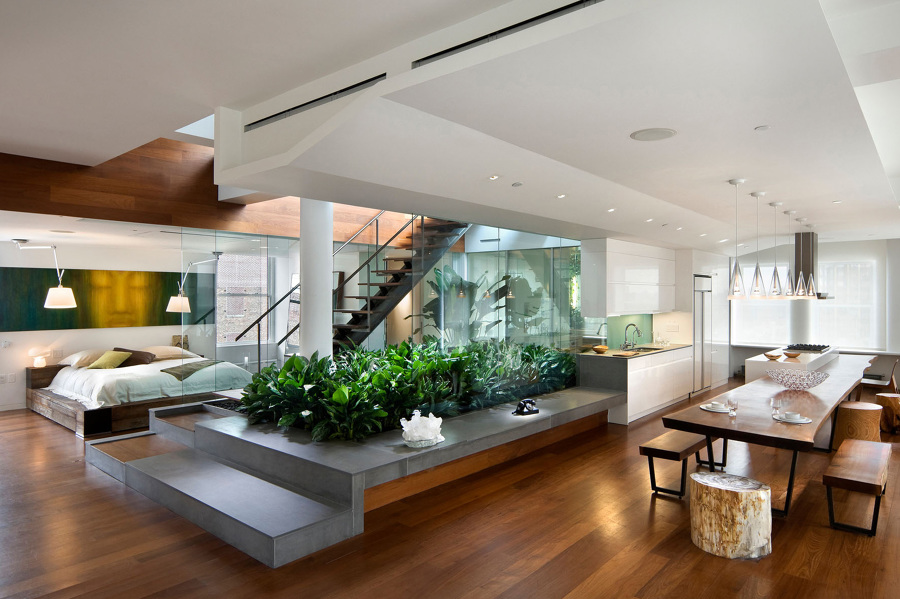 Another functional space that you can reinvent are the dividing partitions. Create a structure with glass partitions, which will allow natural light to pass through, and install an interior garden inside. It will serve as a transition between spaces and will set each of the rooms where it is present.
Predisposition on shelves
Arrange the pots in a shelving system that also serves as storage. Combine green blocks with spaces for books. Wood is a material that together with the plants forms a couple with which you will always be aesthetically correct but, it is sensitive to humidity. Choose woods that do not deteriorate due to contact with water or use wood only to cover the pots.
SOURCE: habitissimo / Ideas / Decorators / without terrace or balcony? how to make an interior garden